Metallic Flooring Colorants
Achieving jaw-dropping, wow-factor results is never an easy task when you're working with concrete. With metallic flooring colorants, you can deliver on your customers' desire for brilliant flooring that combines the durability of concrete with three-dimensional effects and a beautiful, glass-like finish.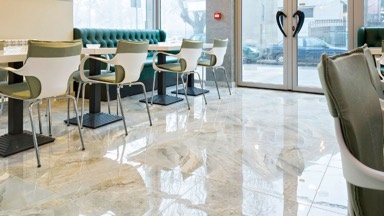 Through a multi-step process, Mesa™ Metallic Flooring Colorants offer endless creativity so you can give any concrete floor a one-of-a-kind, smooth, vitreous finish. Choose from a variety of vivid tones and subtle sparkles that transform floors and create an illusion of movement within the space.
In addition to producing a rich, deep, special-effect surface, Mesa Metallic Flooring Colorants provide valuable performance enhancements. Treated floors resist harsh chemicals and are easy to clean. The inherent barrier protection even includes added heat and water resistance.
Mesa Metallic Flooring Colorants are ideally suited for concrete floors in garages, basements,
warehouses or anywhere a high-tech, exotic finish is desired.
Key Characteristics:
Multi-step process
Concrete takes on a 3-D, glass-like finish
Provides light reflectance to enhance visibility
Delivers non-slip, non-skid surface for better traction and grip
Provides resistance to chemicals, heat and water
Easy clean surface result
Custom colors available upon request