Stain Colorants
Create truly distinctive and beautiful concrete countertops, surfaces and flooring with Mesa™ Stain Colorants. Our translucent stain formulations provide an appealing, long-lasting layer of color that will make your concrete surfaces stand out and satisfy the most discerning customers.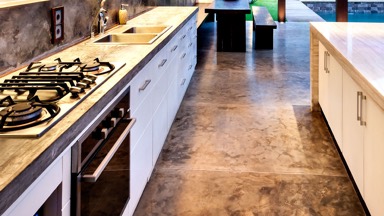 Stain colorants react with the concrete surface to create a natural look, with patterns and colors that accent the dark and light mottling or marbling of the concrete. A range of shades, from warm terracotta to deep blue or green, is available to give any area a one-of-a-kind look and feel.
Once applied, Mesa Stain Colorants are resistant to chipping, peeling, discoloration or fading. They are durable and resilient against water, radiant heat and UV light, resulting in a lasting finish that retains its beauty and elegance over time.
Key Characteristics:
Highly durable with resistance to water, heat and UV light
Resists chipping, peeling and discoloration
Permanent surface layer coloration
Natural process accents concrete's natural mottling and marbling
Custom colors available upon request